Corporate Services
YOUR NAME HERE...
Whether you're looking for a unique, promotional advertising product or a new item to add for product distribution (your logo or ours), Open Sesame is dedicated to helping you fulfill your needs.
As a gift or sales item the Open Sesame 3-in-1 easy bottle opener can't be beat! Made of the highest quality materials, our bottle opener REALLY WORKS and is a must-have for every household. Because it opens most beverages — pull tabs, screw off plastic caps and glass bottle metal caps — it's the only bottle opener your customers will need. Its magnetic back makes it easy to store on the fridge (or other metal surfaces) and it is easy to use. Your name and logo will be prominently displayed in most homes, 24/7, for years to come.
For Promotional Use: The right placement
For small quantity orders (as few as 30 openers) we invite you to take advantage of our "Private Label" offer. Supply us with your design to fit on a 2" by 2 1/4" label (or our professional team can help with your design). Your label will be printed on vinyl stock with water resistant inks and attached to the front of our bottle opener. We do all the work. Your customized bottle openers arrive complete and ready to use.
For quantities of 10,000 bottle openers or more, your logo can be directly imprinted onto our easy bottle opener. In addition, different bottle shapes and colors are available. Each bottle opener is individually packaged in (top of the line) clear blister, making it ready for display.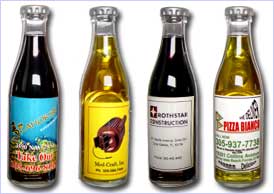 Remember, Open Sesame is not available in stores, so this is a unique gift, a useful promotional piece that will have your business on the back of everyone's mind. It's so original that your customers will remember it for years to come and your new clients will be attracted to your business from the moment they realize how practical an innovative this bottle opener is.
To order Open Sesame openers for your business, please click here

"My business is a 24/7 window and glass repair for residences and offices. For the past year, I've left an opener either for the owner of the house or the secretary at the office. I'm impressed of the number of clients that have called me back saying they had the opener on their refrigerator door with all my info, so they thought of me as soon as they had a broken window. Always thankful,"
Mr. Caudill, WI.
An opportunity has opened for you!
Open Sesame is normally shipped 60 per box, individually packaged, ready for display. Our high quality packaging and product present an eye-catching point of purchase display.
If you're looking for a new product to add sales to your bottom line, don't miss this opportunity. Wholesale prices vary depending upon the volume you require. Please call for details.
Major distributors may want to customize the opener and packaging with a particular logo and information. As for promotional use, this requires a minimum of 10,000 units ordered. Again, we will work with you to develop the best designs and pricing. For details please call 305-889-2868 or use our contact page. (Please include your phone number on any email or correspondence.)
For Distribution: They sell as fast as they open a bottle!
Be the first in your area to distribute the Open Sesame Easy Bottle Opener in your store or along your route. Our product and packaging present an eye-catching display -- both are of the highest quality materials and guaranteed to please! Our attractive, multi-beverage opener comes with a lifetime warranty and full 60-day money back guarantee. And, best of all … IT REALLY WORKS!
Distribution opportunities will be limited on a first come, first served basis
Product packaged 60 per box.
Minimum purchase of 60 units required.
Colors: Available in yellow and dark brown.
For details and wholesale pricing please call 305-889-2868 or use our contact page. (Please include your phone number on any email or correspondence.)
A very resistant combination of steel and clear plastic gives Open Sesame an extraordinary quality finish. It is extremely comfortable to hold and very easy to use. Our unique 3-in-1 magnetic multi-beverage opener is an ideal product for nearly every market segment.
Package Dimensions:
H 8.5 inches X W 4.75 inches X D 1.5 inches
Inner packing: 60 open sesame -- each one in our easy to open, top of the line blister package --ready for display.
Master pack:: 60 openers per box.
Open Sesame Opener Dimensions:
H-5.5 inches X W-1.75 inches X D-1 inch
Shipping:
Shipping and handling to be quoted on a per order basis.
Regular delivery time is 3 to 4 weeks
Rush may be available by request.
Freight:
Prepaid in Miami (door to door to centralized warehouse or freight forwarder)
| | | | |
| --- | --- | --- | --- |
| Tin Cups | Pop Ups | Screw Off Tops | Magnetic |
| | | | |
As easy as saying Open Sesame ®
Flip that Tab...Twist that Cap...Pop that Top
DO IT ALL -- effortlessly and pain free