NEED HELP?
THIS EASY OPEN - BOTTLE OPENER & CAN OPENER WILL REALY HELP YOU
Recommended By Seniors
With limited hand strength
Anyone will benefit from having The Open Sesame ® easy bottle opener to easy open a Soda can or any Common drink in a Plastic bottle, Glass bottle or Aluminum can.
YES ALL IN 1 - Easy and Fast.
This unique easy bottle opener will add independence and pain free opening any beer, water juice or soda that comes in plastic, aluminum or glass.
90-Day no questions asked money back guarantee.
100% Satisfaction Guaranteed
As easy as saying Open Sesame ®
Flip that Tab...Twist that Cap...Pop that Top
DO IT ALL -- effortlessly and pain free
The time has come. This is your opportunity to regain control and feel no pain and no strain. Open Sesame is a leading arthritis help product that has already helped thousands of Americans gain self confidence and feel better when doing everyday things at home or at work. If you suffer from arthritis in your hands, wrists or fingers and are ready to improve your lifestyle, Open Sesame is the right product for you!

"I have arthritis in my hands and can not open bottles, cans or any type bottles, I have used many plastic openers that have been advertised as openers for people with arthritis but this opener works exceptionally well and with very little effort... a great product. I will order the others we spoke about and put them in my office, home, car and anywhere I may need an opener...Thank you..." — Ms. Doanes, N.C.

"I bought one for my mom, she cannot open her water bottles. I looked on line to find something that would make it easy for her. Thats when i found open sesame and ordered it along with someone elses opener. She couldnt use the other brand because it took to much strengh in her wrists, so i returned theirs. She tryed open sesame and it worked great for her. She is 72, with lupus that has crippled her hands." — Ms. P Chapman, AZ
Why is it so good?
The durability and convenience of the product are the traits you'll be able to notice at first glance. Then, after you get your own and start using it, you'll also notice that Open Sesame is:
Unique: Open Sesame is a one-of –a-kind, 3-in-1-bottle opener that will help you open any household item effortlessly and pain free!
Helpful: People with arthritis in their hands and wrists or troubled by arthritis in their fingers, can use this device to open virtually any container— producing a drastic, but needed change in their lives!
Functional: Open Sesame has a practical size and shape that makes it easy to handle. You can keep one at home, or take it anywhere you go!
| | | | |
| --- | --- | --- | --- |
| Tin Cups | Pop Ups | Screw Off Tops | Magnetic |
| | | | |
Open Sesame has a practical size and shape that makes it easy to handle. You can keep one at home, or take it anywhere. It's so practical and convenient, you can even keep one in the glove compartment of your car!
Brief Description Video Demonstration
Big Savings, Great Gifts.


LIMITED TIME SPECIAL OFFER!!

Yes for a limited time only you can buy 3 Open Sesame
for only $34.97 plus S & H and "We Will Add An extra one completely FREE"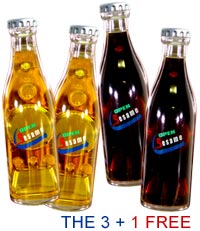 Not sure if Open Sesame is good for you ?

"Hi, I saw the Open Sesame opener in an advertisement in Arthritis Today. I decided to go on line and try to find the product. I found a website for it and decided to order the multipack. My husband was recently diagnosed with rheumatoid arthritis and sometimes has trouble doing things like flip tops on cans or opening bottles that twist. So I figured it was worth a try. I have gotten other products in the past but this works so much better. He uses the opener for opening flip top cans on a daily basis. We also use it for opening bottles and I myself find it useful for that as well. It has helped to make life a little easier and we love the product. I am 53 and my husband is 60. I gave my mother-in-law who is in her 80's one of the openers too. She also loves it. Thanks for inventing it!!" — M. Courchaine, MA

"I bought the bottle opener for my son- who has a disability which affects his hand strength. He used his opener last night at a party with friends and was pleased he did not have to ask for help to open cans and a water bottle. Yea! Our friends were impressed too with how well it worked and what a great design it was! I found you through a web search for easy bottle openers. I am 49." — Mr. R. Miller, OR.
Arthritis Help that Really Works!
Arthritis is a chronic disease for which self-help is essential, so it's important that you stay focused on any problems associated with this condition. Being proactive and remaining positive is key to fighting discomfort in your hands, wrists or fingers.
Are you a person who likes to stay in control of your life? Do you suffer from arthritis in hands or fingers? Are you always looking for ways to control arthritis pain and want to find practical ways to relieve that pain? If so, this is the solution you've been looking for, one that will definitely change your life — for the better. Open Sesame, the 3-in-1-bottle opener is a leading arthritis help product that will assist you on a daily basis.
What you get
Our amazing 3-in-1- Magnetic Easy Bottle Opener Open Sesame® works every time and helps you accomplish some daily important tasks — all pain-free.
With it's 3-in-1 bottle opening functions, Open Sesame® easily opens all kind of beverages in the market for you. It's designed with built-in leverage and great "grip and grab" technology to help open each type of beverage with ease, eliminating struggling -- no straining or force needed.
The ergonomic style makes it hand-friendly and very comfortable for the user. The magnetic back makes it easy to store and easy to find quickly.
Opens aluminum cans like magic: slide tab into slot, lift up, can is open.
Unseals plastic screw off caps with a simple twist: it grips and grabs.
Makes easy work of metal capped glass bottles: lift up and the cap pops right off!
Ergonomic design, gentle on your hands. Built-in leverage points. Eliminates pain and strain.
Especially helpful for those with arthritis in hands, fingers and wrists or for those with limited hand strength.
Magnetic back — easy to store and easy to find.
Made with the most resistant materials in the market. Steel and Polycarbonate.
Lifetime warranty.
90-Day no questions asked money back guarantee. 100% Satisfaction Guaranteed
4 different daily functions for the price of 1. Everyone loves it.
Best lasting functional inexpensive Gift for anybody for any occasion. Make your next gift original, make it functional and know that it will help every body for the rest of their lives.
Ideal for any Party, Camping, BBQ, RV, Boat, Pool, Beach, Bar, Office, Car. Comfortable and nice to have anywhere.
Very useful 24/7 for. Kids, Teenagers, Mothers, Fathers, Seniors, Corporations, Gifts.
"Open Sesame®" Easy Opener is welcome in every home. Because you deserve the best, now you can Feel Good all the time using Open Sesame® the #1 easy opener there is.
Arthritis in Fingers, Hands or Wrists?
Once diagnosed, it's difficult for most people to come to terms with arthritis and its effects. That's why is so important for arthritis patients to keep an open mind and always be on the lookout for convenient, resourceful ways to maintain control of their lives. This includes maintaining a treatment regimen featuring specially designed arthritis products, such as Open Sesame.
If you suffer from arthritis in your hands, wrists or fingers, you know how painful and hard it is to open a bottle of soda or a can of juice. The same thing happened to the creators of Open Sesame. The idea of this great tool came after their determination to improve their life and regain control of simple, everyday tasks. Who would have thought that a bottle-opener could make a task easier, a situation less frustrating, and a daily chore pain-free? In each case, Open Sesame makes opening beverages that much more manageable.
What others have to say!
The few testimonials we've included are representative of the comments we've received from so many of our customers. Thousands of people from all over the United States are happily using Open Sesame for easy bottle and can opening needs on a daily basis.
Read along, get the product, use it as many times as necessary and let us know what you think. You'll be glad you did!!
Customer Testimonials

"I bought 4 0r 5 open sesame bottle openers for my wife, who has a connective tissue disease-and arthritis to an extent she can't use her fingers...it has been a great help for her, mostly opening the bottles...i would be very grateful if you made some that open the slightly larger bottle caps that screw off--it is such a help..we are in our 50's -- wish i had found them sooner. Found them online. Thanks" — J. WEEKS, AR.

"My wife loves your Open Sesame a lot. She used to struggle all the time when opening aluminum soda cans or my beers and her complaining about damaging her nails never stop. Since we got the easy opener she has it handy on the fridge and now she even enjoys opening them." — Mr. and Ms. Caudill, NY.
View More Customer Testimonials
As easy as saying Open Sesame ®
Flip that Tab...Twist that Cap...Pop that Top
DO IT ALL -- effortlessly and pain free